Latest from icOPEN…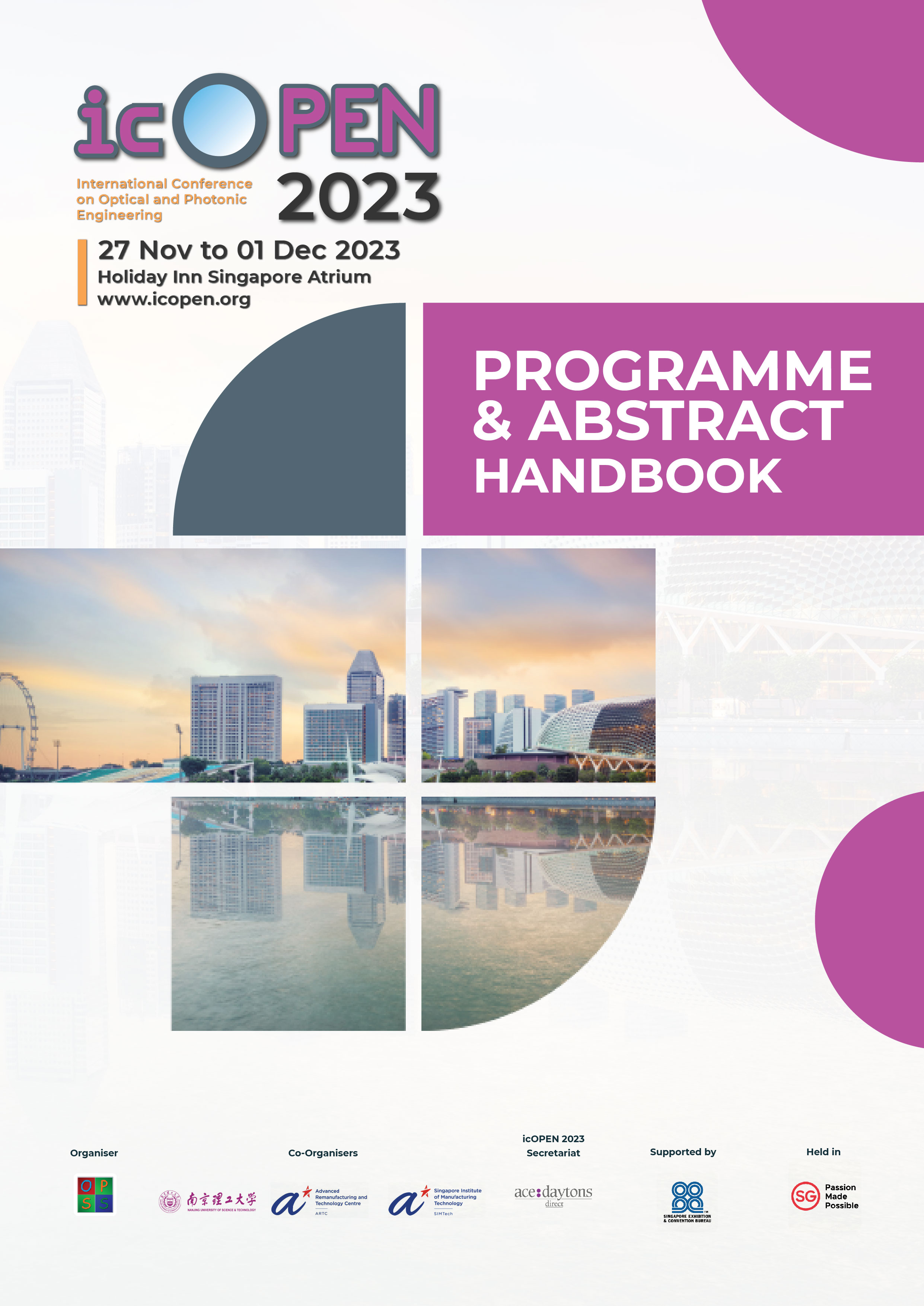 Download e-Programme & Abstract HandBook
---
Submit your manuscript to be published with SPIE!
SPIE publications comprise the largest and most comprehensive collection of research papers and books on optics, photonics, and imaging applied science and technology. More than 580,000 publications are available in print and electronic formats to help you learn, stay current, solve technical problems, and bring your ideas to life.
Deadline: Monday, 11th December 2023
Click Here
to more details
Click Here for Submission
---
Join us NOW!
as a Partner/Exhibitor
Click Here to view Full Programme
Welcome Message
On behalf of the organizing committee, we wish to extend a warm welcome to all of you to the 10th edition of the International Conference on Optical and Photonic Engineering (icOPEN), hosted by the Optics and Photonics Society of Singapore (OPSS).

Since 2008, OPSS has been promoting Optics and Photonics in Singapore through interaction between academia and industry, and actively participating in regional conferences and exhibitions. In recent years, OPSS has spearheaded the establishment of societies in various ASEAN countries, creating a dynamic community in the field.

The International Conference on Optical and Photonic Engineering (icOPEN) stands as a testament to our commitment to this field. Since its inception in 2011, icOPEN has steadily grown to become a prominent fixture in the Optical and Photonic Engineering calendar. Traditionally alternating between Singapore and China, it has evolved to include our ASEAN neighbours, with Thailand hosting the event in 2019.

In the face of challenges, such as the pandemic-induced hiatus, we've continued to adapt and innovate. The most recent edition of icOPEN was an online event organized in Nanjing in 2022. Now, we are delighted to announce the return of the physical conference in Singapore in 2023. This is an exciting opportunity for colleagues from around the world to not only showcase their cutting-edge research and exchange ideas but also to rekindle old friendships and forge new connections in a nurturing environment.

Together, we will explore the frontiers of Optical and Photonic Engineering, foster collaboration, and strengthen the bonds of our global community. Get ready for 3 days of inspiration, innovation, and camaraderie.

Welcome to Singapore and the icOPEN2023. Hope you have a fruitful and successful event.
Conference General Chair
Anand Asundi
Welcome to Singapore
Singapore is much more than the sum of its numerous attractions. It's constantly evolving, reinventing, and reimagining itself with people passionate about creating new possibilities. It's where foodies, explorers, collectors, action seekers, culture shapers, and socialisers meet―and new experiences are created every day.